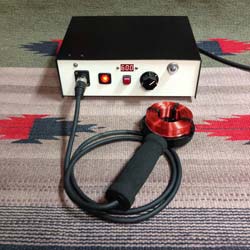 Bob Beck Style
Deluxe Magnetic Pulser

Auto-Pulsing • Auto Off
No manual button pushing!

**New**
3 Diget LED Digital Auto Off Timer Relay with 10 Minute Countdown!

**New**
16AWG wet-wound, "perfect lay" inductor coil mounted to a paddle style Finland birch plywood handle.

**New**
More powerful 100W internal power supply. Charges capacitor in 2 seconds.
The pulse coil has an additional coating of high temp black plasic-rubber for extra Inslulation.

1
$699 - Plus $25 Shipping Within the Continental US

Average Lead Time 30 Days
Features:

Deluxe Auto-Pulsing Bob Beck Mag Pulser features an inductor coil who's cable can be unplugged from the device. The 3 digit LED, digital auto off timer function is a safety precaution to prevent accidental overheating of the inductor coil or the internal power supply.

I have no way to personally measure the gauss, but the pulse coil will shoot a 1.5 inch fender washer across the room, or nearly from the floor to the ceiling. I can say however that my mag pulser uses the same size capacitor and the same 2.5mH inductor coil as Sota Instruments' 6000 gauss mag pulser. So, logically it stands to reason that my pulse coil will emit a 6000 gauss pulse.

Specifications:

• Input Voltage: 120V (240V upon request)
• Power Consumption: 100 Watt
• Inductor Coil: 16AWG 2.5mH
• Capacitor: Rubycon 450V 600uF PhotoFlash Capacitor
• Capacitor Charge Time: 1 second to 350V.
• Capacitor Life: Minimum 100,000 discharges.
• Weight: 8 Lbs
• Auto Off *
• Pulse Frequency Range: From 1 pulse every 3 seconds to 3 pulses per second.
• Max Run Time: 1 hour @ 1 pulse/2 sec.
• Pulse Coil Use Time: 20 min @ 1 pulse/2 sec. (Additional pulse coils can be purchased for $169)

* To prevent the possibility of critical components overheating, the mag pulser will shut itself off after 10 minutes of run-time. To start a new time cycle, simply push and release the red momentary switch. After a total of 60 minutes of operation @ a pulse rate of 1 pulse/2 sec, or if the pulse coil gets too hot to comfortably hold in one's hand, the operator must turn the machine off and allow it to cool down (depending on ambient temperature) for a period of 30 - 60 minutes minutes. OPERATING THE DEVICE AT PULSE RATES FASTER THAN 1 PULSE EVERY 2 SECONDS, WILL CAUSE INTERNAL COMPONENTS TO OVERHEAT MUCH MORE QUICKLY! Running the device at a faster pulse rate than 1 pulse per second, will lessen the effectiveness of the magnetic pulse and cause the pulse coil and internal components to overheat even faster. Exceeding operational guidelines can damage or destroy the device and void warranty! The pulse (inductor) coil can be placed into a freezer for faster cooling.

About The Pulse Coil: The induction coil was wet wound with 16 AWG double insulated magnet wire. The means that the wire on the coil will not move and hence the magnetic pulse will be totally silent. In order to test to make sure one is getting a pulse, bring something magnetic about two inches away from the pulse coil. The tug from the electromagnetic pulse can be felt. The magnetic field increases exponentially, the closer one gets to the coil. Allowing a magnetic object to accidentally slap against the pulse coil can damage the insulation on the coil, necessitating repair or replacement. The magnet wire insulation is pretty thick stuff and can tolerate temperatures up to 300ºF. As long as the insulation is not damaged it is safe to use directly on the skin. For an extra layer of protection while using and to protect the coil in storage, a sock can be slipped over the coil. After 10 minutes of operation, be sure to periodically remove the sock and check the coil temperature. If it is too hot to put your finger on it and keep it there, then the coil needs to cool down.

If operation from a 12V power supply is desired, one can accomplish this by using a minimum 150W, 12V - 120V power inverter.

Warranty: This Bob Beck Style Mag Pulser is guaranteed to be free of defects and to operate properly for a period of one year from the date of purchase. Opening the case without my permission, will void the warranty. Please refer all servicing back to Steffan.

As always, I strive to make the best and safest machines possible. Consequently from time to time unannounced improvements in the machine's design may occur.

DISCLAIMER
The electrical devices we sell are meant for experimental/scientific research only & not meant to diagnose, treat or cure any disease or condition. Please see a medical professional if your are ill or in poor health. We assume no responsibility for any loss of property, electric shock, physical or psychological harm, or death as a result of operating any electrical device that was purchased from this web site or our other online services.